Dr. Prof Leonard King is a storied jazz drummer, vocalist, composer and teacher from Detroit.  He has performed with the James Carter Organ Trio, Roy Brooks' Aboriginal Drum Choir, The Soul Messengers, a host of Motown recording artists, and is the leader of the Dr. Prof. Leonard King Orchestra as well his own original small group Oopapada.  Many folks have wondered about his nickname "Doctor Professor."  All you need to do is chat with him on a set break to find out why; he knows more about American music history and Detroit history than almost any man alive.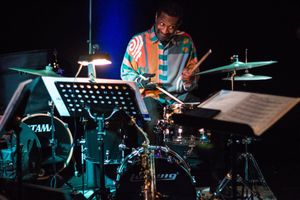 He is most passionate for his original music and I am fortunate enough to get to play it with him on a regular basis.  His group Oopapada was created as an organ trio featuring Chris Codish (organ) and Bob Tye (guitar).  Many years later, he has re-created the group as a quartet, replacing guitar with two horns...that's where I come in!  Rounding the group out is Jimmy Smith on trumpet.  We rehearse weekly in Leonard's basement where one can catch a glimpse of his library...hundreds of books on music, history, banking, and a plethora of other niche topics.  His music encapsulates his knowledge and discovery of human truths, sometimes enigmatically, but always grooving! I know much of our time 'rehearsing' is talking and sharing ideas, and usually him defining words in his titles...Leonard is very creative when it comes to the English language, he likes to invent new words and repurpose old ones to describe situations and personality traits.  Check out some of these song titles: Crept Dema Wrongma, Vapor Lock Bop, Post '80s Methusela Blues, and Imperative Unit Rising.  
Leonard recently gave an interview for Mike McGonigal at Metrotimes, here it is:
http://www.metrotimes.com/Blogs/archives/2016/05/04/show-preview-oopapada-this-friday-at-black-lotus
The Dr. Prof. Leonard King Orchestra recently released an album, "This Time and Again Forward." Be sure to check it out!