My Story
James Hughes is a jazz Saxophonist born and raised in the Detroit area. He has over 20 years of professional experience covering a wide range of genres from jazz to rock and roll, from classical to soul.  James has a fresh and original voice on Saxophone but stays rooted in the great hard-bop tradition of Detroit.  He maintains an active performance and teaching schedule.  He has four albums released under his own name, THE GATES, MOTION, FROM HERE ON OUT and EVER UP & ONWARD which was selected as one of AllMusic's "Top Jazz Albums" in 2015!
"…inspired by the grand Motor City jazz scene of the 1950s and early '60s, these players update and extend that tradition with excellent writing, arranging, and playing for the 21st century."  Thom Jurek, All Music Guide April 2015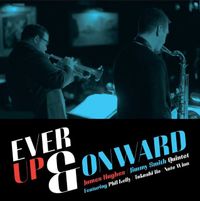 The passion for music started early for James.  It began with piano lessons at age 4 inspired by the music of J.S. Bach, sustained with renewed energy upon hearing the music of Scott Joplin and playing Saxophone at age 10, and matured when discovering the music of Charlie Parker in high school.  This passion led him to study jazz Saxophone at Wayne State University with Matt Michaels, Chris Collins and Larry Nozero. James gave himself one year after earning a B.M. in Jazz Studies to try and make a career out of music... that one year has turned into 27!  

His diverse skill set has helped him navigate the waters of being a professional musician.  He conducted a church choir for ten years, taught Saxophone, clarinet, flute and piano students for over 20 years, played in numerous pit orchestras, composed and arranged for a wide variety of ensembles and recorded for many artists. He is equally adept at reading as he is improvising and continues to be a first call musician in Detroit.  He has performed with jazz greats Dave Liebman, Richie Cole, John Clayton, Jerry Bergonzi, Jimmy Heath, Arturo Sandoval, Kurt Elling, Barry Harris, The Glenn Miller Orchestra, The Jimmy Dorsey Orchestra and the Detroit Jazz Festival Orchestra. He has other notable performances with Aretha Franklin, Josh Groban, Idina Menzel, The Temptations, The Four Tops, Bernadette Peters, Ben Folds, The Jersey Boys, The Michigan Opera Theatre, and The Detroit Symphony. His knowledge and experience make him a sought after teacher and has given master classes at University of Toledo, Western Michigan University, Oakland University, Eastern Michigan University, Wayne State University, Detroit Jazz Workshop, and served as a jazz conductor at Blue Lake Fine Arts Camp from 2007-2017.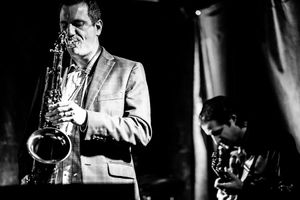 James can be heard in jazz clubs with The Hughes/Smith Quintet, The Scott Gwinnell Jazz Orchestra, The Woodward Horns backing up many great Detroit artists like Melvin Davis, Bobby Murray, Nicole New and Ben Sharkey, every Monday with The Paul Keller Orchestra and in the iconic guitarists band Ron English & The Tuesday Crew . 
"Please enjoy my website, check out my music, and sign up on my mailing list so you can stay updated on my performances.  Peace, love and harmony! " -James