The "James & Jimmy" Jam is back! After a summer long hiatus, we have regrouped and are ready to come out swinging!
It was sad to see our Wednesday home at The Black Lotus fold up, but it provided us with a much needed mental break. We are very excited to be starting a new monthly series at Cliff Bells doing the same thing we did the past three and a half years. We will feature a different rhythm section each month and play the music of a particular composer or recording and then open things up for a jam session. This will happen the first Wednesday of each month from 8pm-12am.
This month at Cliff Bells we will be presenting the Joe Henderson recording LIVE AT THE LIGHTHOUSE (1970). I thought I would take a little time here to blog my thoughts about this underground album beloved by so many musicians.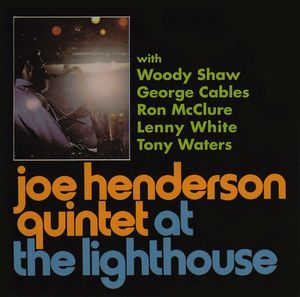 The Lighthouse Cafe located in Hermosa Beach, CA has long been a favorite spot for jazz musicians to play when out on the west coast. They first started featuring jazz there in 1949 and for the most part have had jazz there ever since. So many great recordings have come from that room, and on each one, you can hear relaxed, uninhibited and inspired playing proving that is a special venue. Players like Lee Morgan, Jazz Crusaders, Elvin Jones, Cannoball Adderly, and Art Blakey have all recorded there. But our attention is on Joe Henderson's dynamic quintet that recorded there on Sep 24 1970.
The lineup is one not heard to often together and provided crazy energy that sizzles from the first downbeat. Woody Shaw (tpt), George Cables (elec pno), Ron McClure (b) and Lenny White (d) all bring the heat. The tracks are made up of Joe Henderson originals and a couple standards. What's really refreshing is to hear Joe's tunes recorded years after him playing them nightly as opposed to the Blue Note recordings where they were very new to him and the band still. These versions of Blue Bossa, Recorda Me, Isotope, Shade of Jade and Mode For Joe sound more open and the band stretches out on them. Joe's technique is on full display burning through Isotope like it's a riff tune or something. I think one reason so many jazz musicians like this album is because we get to hear Joe and Woody address these tunes like how we encounter them today, live and raw, opened up with tons of solo space. We get to hear Joe and Woody throw down some wild and woolly language on Mode For Joe and is pretty obvious there is some friendly fire being tossed around. I have heard that Woody was not thrilled with his playing on this record, probably due to the fact that Joe is untouchable here, nevertheless, Woody sounds amazing and is going for it wall to wall.
The rhythm section deserves recognition, too! Ron McClure anchors the section down, yet still plays super melodic bass lines and pops with Lenny White left and right. Lenny is going full tilt on this recording too, full of fire, but still sensitive and always conversing with the soloist. George Cables is on Fender Rhodes the whole time, which can be overbearing and redundant, but in his hands it never gets there. George doesn't play it like a piano, he honors the sound of the instrument and colors beautifully all the bombastic playing going on around him. His accompaniment on 'Round Midnight is most notable...ears wide open, following Joe wherever he goes, and reharmonizing without losing the integrity of the original tune. He is able to lighten up the dark spots and cast shade on the bright corners of the tune...pure genius!
If you can't tell, I LOVE THIS ALBUM! Personally, it has had a huge impact on my playing. When I first heard Joe's unabashed, aggressive, rhythmic and sly melodic playing on this record, it was like someone opened a door up for me and said, "come in...you can do this, too!" It was a green light in my playing life and I've been going ever since. I hope you have a moment to check this phenomenal recording out! It's well worth the time :)
yours in music,
James
Come check us out! The first Wednesday of each month at CLIFF BELLS in Detroit. 8pm-12am
October  - Joe Henderson LIVE AT THE LIGHTHOUSE
November - music of HERBIE HANCOCK
December - music of CURTIS FULLER