The HSQ's latest recording MOTION has been out for a few months and reviews are trickling in. The most recent is from the acclaimed website All About Jazz.
Check them out!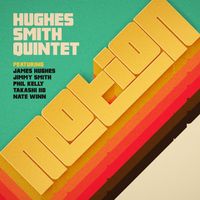 The James Hughes - Jimmy Smith Quintet : MOTION          
By MARK SULLIVAN   allaboutjazz.com    May 17, 2018 
      Detroit's The James Hughes - Jimmy Smith Quintet keeps the hard bop flame burning in this follow up to Ever Up & Onward (Self Produced, 2015). The album shares the same personnel—this has been a working band since 2013, and they sound like it—and the same positive energy. The program is all originals this time. 
Trumpeter Jimmy Smith's "The Runaround" opens the set with a blast of infectious funk (or perhaps it should more appropriately be called soul jazz, the label popular during the hard bop era). Pianist Phil Kelly adds the Fender Rhodes to his keyboard arsenal for this (and "Waxwing"). Bassist Takashi Iio plays a funky solo, and drummer Nate Winn gets a brief feature at the end. A fine showcase for the entire band. 
"Sidamo" is a Latin/Swing tune built around James Hughes' soprano saxophone. His tune "Rue" has a reflective melody played by both horns, over an insistent drum and bass rhythm. It's the closest thing to a ballad in the program. Or perhaps that honor could go to "Elizabeth," with an insistent modal vamp reminiscent of Herbie Hancock's "Maiden Voyage" (like the opener "Audio Culture" on the previous album). "Gig Fries" is essentially an unaccompanied drum solo (bracketed by a head from the whole band): short and sweet. I'll definitely have fries with that! Feels like it belongs with "Chips & Slaw," which closes the set with more soul jazz. 
It's always a pleasure to hear hard bop played with this much style. Great tunes, great playing, great positive energy—what's not to like? I'm already looking forward to the next installment. 
Track Listing: The Runaround; Intersections; Waxwing; Sidamo; Elizabeth; Rue; Wanting More; Promenade with Molly; Gig Fries; Chips & Slaw. 
Personnel: James Hughes: saxophones (alto, soprano, tenor); Jimmy Smith: trumpet, cornet, flugelhorn; Phil Kelly: piano, Fender Rhodes; Takashi Iio: bass; Nate Winn: drums. 
Title: Motion | Year Released: 2018 | Record Label: Self Produced 
____________________________________________________________________ 
Dear All About Jazz Readers, 
Mark Sullivan is a musician/composer (librarian by profession) with a special interest in bebop-based jazz and experimental music. 
If you're familiar with All About Jazz, you know that we've dedicated over two decades to supporting jazz as an art form, and more importantly, the creative musicians who make it. Our enduring commitment has made All About Jazz one of the most culturally important websites of its kind in the world reaching hundreds of thousands of readers every month. 
allaboutjazz.com      -         Reporting on jazz from around the globe since 1995