Our monthly Cliff Bells Jam will honor the music of trombone legend CURTIS FULLER.
We play at Cliff Bells on Wednesday Dec 4, 8-11:30pm.
Jimmy Smith and I are very excited to be welcoming Detroit's own Vincent Chandler to our front line as we pay tribute to Curtis DuBois Fuller. Jimmy and I have been doing these tribute sets as an opening to our jam sessions for four years now, most of which were on a weekly basis. Now we would transcribe, hunt down and scavenge charts for these events fiendishly every week, so collaborating with Mr. Chandler is a double treat because not only do we get to play with him, he has provided all the music! I'll get into the band later, let me share my thoughts on the composer of interest.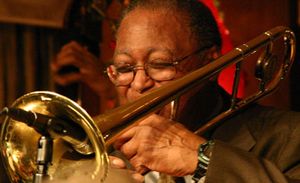 Curtis Fuller has long been on the "Mount Rushmore" of jazz trombonists and any aspiring trombone player would have had to check him out. He has left a lasting impact on the language of bebop and beyond. He has recorded over 30 albums as a leader and 100s as a sideman with all top jazz artists of his time. Most folks recognize his work with Art Blakey & The Jazz Messengers, The Art Farmer-Benny Golson Jazztet and his stellar playing on John Coltrane's Blue Train. Fuller recieved the NEA Jazz Master Award in 2007.
There are so many wonderful things to get into about his playing and career, but I want to turn your attention to his compositions and writing style.
Curtis Fuller tunes are painted with broad strokes and in bold colors. They are usually shorter forms without a lot of decorations (interludes, transitions, shout sections, etc.). He gets right down to the point of the piece and within 4 measures you know what it's about.
His melodies are very lyrical, singable, mostly diatonic and congruent (Darryl's Minor). He often writes in traditional four bar phrases with ample space between each phrase. His melodies are also contained within a reasonable range and don't utilize wide or awkward intervals (Judy's Dilema). His rhythmic concept is very similar to his Detroit counterparts of the day (I'm thinking of Roland Hana, Tommy Flanagan, Barry Harris) in that a melodic statement is often 'answered' by a rhythmic statement (Sortie). The rhythm section plays a crucial role in his tunes to this end.
Harmonically, Fuller writes tunes to be vehicles for soloing. Two chord vamps, modal harmony, and blues changes dominate his portfolio making his tunes accessible to the listener and improviser alike (eg. A La Mode, Arabia, Sortie, Down Home).
Performing these tunes on Dec. 4 will be a stellar rhythm section; Corey Kendrick on piano, John Muir-Cotton on bass, and Louis Jones III on drums with the aforementioned front-line of Vincent Chandler on trombone and our monthly hosts Jimmy Smith on trumpet and yours truly holding down the Saxophone chair.
We hope to see you at Cliff Bells Dec 4...if not, we encourage you to take the time to digest some of the prolific career of one of our Detroit heroes, CURTIS FULLER!!!
peace,
James